Comparing Technologies
AirSculpt® Pros and Cons: Comparing Fat Removal Options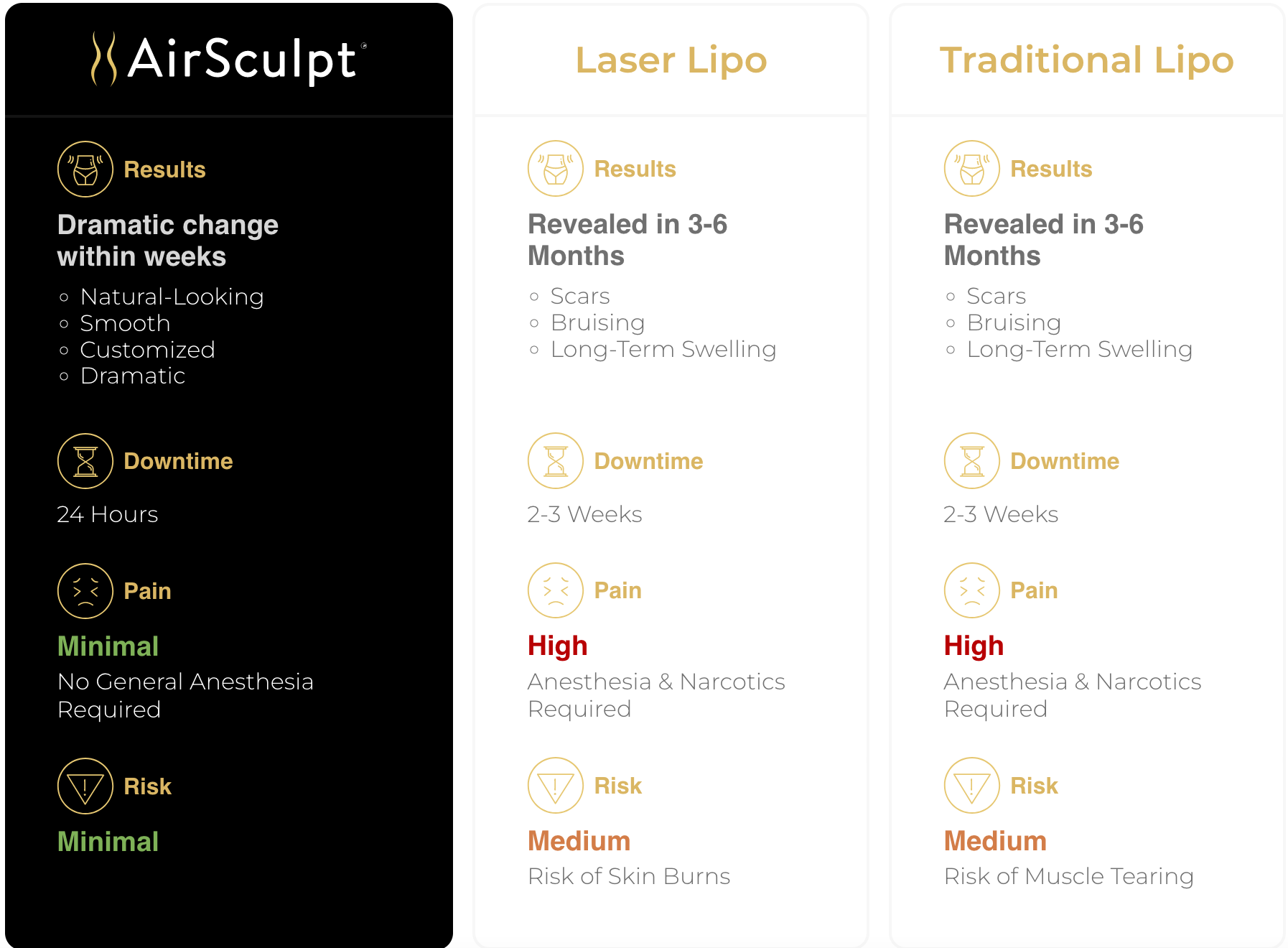 AirSculpt® is a fat removal technique developed by Dr. Aaron Rollins, a renowned surgeon who came to fame working with celebrities in Beverly Hills, California.
AirSculpt® has changed how traditional fat removal, namely liposuction, is performed. During liposuction, cannulas manually break up the fat in a motion similar to that of grating cheese. This type of movement to remove fat is quite aggressive on the body; therefore, the quality control of traditional liposuction can be somewhat limited. Recovery lasts several months, and results are often unpredictable.
AirSculpt® Vs. VASER and Other Traditional Liposuction Techniques
Unlike standard tumescent liposuction, which uses a blunt tool to break up the fat and detach it from the skin, AirSculpt® procedures use patented tools with a mechanical spinning motion to precisely pluck fat from the treatment site. Despite being more gentle than other options, this approach can remove large quantities of fat to provide dramatic results.
Patients report minimal discomfort, often comparing the process as similar to a deep tissue massage. No needles, scalpels, or stitches are used during any AirSculpt® procedure, and patients always remain fully awake. With traditional liposuction, some surgeons still use general anesthesia. This is considered riskier than local anesthesia and introduces additional side effects beyond those in minimally invasive treatments like AirSculpt®.
AirSculpt® Vs. Nonsurgical Fat Removal
When it comes to nonsurgical procedures that damage fat outside the skin, results are neither permanent nor ensured. These treatments that use a laser or ultrasound to zap fat require several sessions, and even then, they only cause fat cells to empty their content. If a patient gains weight afterward, they can quickly see fat return to the treated area.
Minimally invasive options that directly remove fat, like AirSculpt®, offer permanent results. Because fat cells do not regenerate, the treated area will always contain less fat than before. Of course, if a patient gains weight, the remaining fat can expand, but other regions are likelier to grow first.
What Are Some Pros and Cons of AirSculpt®?
| | |
| --- | --- |
| AirSculpt® Pros | AirSculpt® Cons |
| Quick results: appear within weeks and continue improving for several months | Some downtime: up to 48 hours for most patients |
| Wide-awake treatment: general anesthesia is never used | Scarring is possible: will resemble a freckle-sized blemish |
| Permanent results: fat cells do not regenerate | Availability: offered only at Elite Body Sculpture |
| All-natural fat transfers are provided | Price: this premium treatment may cost more than traditional liposuction |
| Skin tightening and cellulite removal are also offered | Not designed for weight loss |
| Single session: everything with AirSculpt® is one-and-done | Swelling and bruising: while minor, these are possible but should subside within weeks |
Advantages of AirSculpt®
One of the main benefits of AirSculpt® is that the downtime is significantly shorter compared to traditional surgery. In just under 48 hours, you can quickly return to your daily schedule with results already beginning to appear.
AirSculpt® is also a versatile procedure; it can be performed on many areas, such as the hips, arms, back, and chin. And unlike other traditional or laser forms of liposuction, with AirSculpt®, you can naturally transfer the removed fat to your breasts, hips, or breasts for augmentation.
Beyond permanent fat removal and transfers, additional body sculpting solutions include skin tightening and cellulite to enhance your overall results.
Disadvantages of AirSculpt®
The main disadvantage of AirSculpt® is that despite the less invasive elements utilized, it is a procedure that may require a minimal downtime of up to 48 hours.
Without the proper recovery plan, you can also negatively affect your results, no matter the quality of the fat removal outcome.
AirSculpt® is a procedure that may produce scarring, but not the type of scarring typical after a treatment like liposuction or a tummy tuck. While most surgeries create linear scarring, the AirSculpt® process requires a freckle-sized mark where fat was removed.
Is AirSculpt® The Better Option?
If you're choosing between liposuction and AirSculpt® or considering a nonsurgical body contouring procedure, we are confident that minimally invasive fat removal offers the best of both worlds. With AirSculpt®, any stubborn fat on virtually any area from chin to ankle can be removed while drastically minimizing the risks and complications in traditional procedures.
Call the body sculpting location nearest to you to schedule your complimentary consultation and learn more about the AirSculpt® difference.
AIRSCULPT® YOUR DREAM FIGURE
Ready For The Defined Shape You Want?